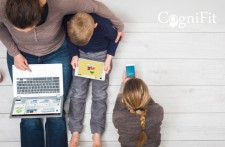 With 300 million students worldwide now stuck at home, parents are looking for solutions to challenge their children's mind
SAN FRANCISCO, March 26, 2020 (Newswire.com) - ​​​​​​​​​As schools close due to the spread of coronavirus, there is an unprecedented need for supporting children with brain-challenging activities. CogniFit's brain training programs are free for families through its CogniFit Stay At Home program. This initiative helps families manage their time at home and encourages them to make the most of this time to stimulate their minds with fun games.
To learn more and to access CogniFit Stay At Home, visit:
https://www.cognifit.com/stayathome
"As most K-12 students around the world have had school canceled for several weeks because of the coronavirus, parents worry about their children's education and want to keep them mentally challenged," says CogniFit CEO, Tommy Sagroun. "We at CogniFit want to address this concern because we understand how important it is for children to have continuity in their cognitive development and for adults to not be cognitively affected by lack of stimulation or anxiety and cope better with these isolated circumstances. To that end, we are making all of our brain training programs free for students for one month."
CogniFit Stay At Home seeks to help parents provide their children with fun and engaging challenging activities. This family-friendly platform is designed to help students and family members spend their time at home exercising their brain with more than 60 brain games.
CogniFit's cognitive training programs are designed for all ages from seven years old and above, to teenagers, to adults, to seniors. Using advanced algorithms, CogniFit's patented technology automatically adapts and adjusts the training regimen to each user's needs.
CogniFit's platform trains key cognitive skills, such as attention, memory, reasoning, which are critical when studying. This scientific platform exercises more than 20 cognitive skills that we use in our daily lives. CogniFit's advanced technology has been developed to measure user's performance consistently and adjusts the level and type of brain games to be performed automatically.
With this one-month free initiative, CogniFit seeks to help families and students manage their time at home and have an activity that is not only beneficial to the mind but also entertaining.
For further inquiries and media interviews, please contact Thomas Mann at media@cognifit.com.
About CogniFit
CogniFit is a global leader in developing online programs to assess and train core cognitive areas such as attention, memory, coordination, perception, and reasoning. As a digital health company, CogniFit specializes in scientifically validated cognitive tests and brain training programs.
As a major vendor in the cognitive assessment and training market, CogniFit offers its programs to individuals and companies in various verticals, such as healthcare, education, research, health and wellness, driving and human resources.
Source: CogniFit
Share: