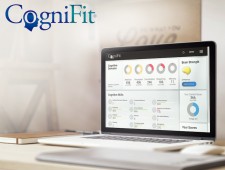 Study shows that CogniFit's Cognitive Brain Training Program is considered one of the most reliable brain training programs; This digital brain fitness solution includes more than 30 brain games and 18 assessments; CogniFit continues leading the brain training market
NEW YORK, April 5, 2019 (Newswire.com) - ​As technology is constantly changing and growing exponentially, CogniFit has been releasing several brain fitness solutions to increase user experience and stay up to date with the latest trends in cognitive and brain research. CogniFit's reputation has no limits, according to this study made by Australian scientists, as it offers the most reliable brain training programs. One of its star brain training programs is the Personalized General Cognitive Brain Training.
CogniFit's General Cognitive Brain Training Program has been carefully developed by neuropsychologists and brain scientists following the latest research on cognitive stimulation. The program is designed to stimulate, train and rehabilitate several main cognitive domains (perception, attention, memory, reasoning, etc.) and their components.
The program is designed for both healthy populations as well as people with a cognitive condition. It aims to help children, teens, adults and seniors who want to train their essential cognitive skills with a digital tool, as well as compare their scores to the worldwide population. This multi-dimensional scientific resource includes more than 30 brain exercises and 18 assessments that train more than 20 cognitive skills.
CogniFit's General Cognitive Brain Training Program stands out among other brain training programs because all the tasks and activities are personalized and require progressively more and more cognitive resources. This means that each task adapts to each user's needs and characteristics (age, deficits, and/or cognitive deterioration, etc.). Another critical feature is that the games have been designed to keep the user entertained while progressively training their cognitive skills.
CogniFit CEO Tommy Sagroun states that "cognitive training is one of the main factors to improve brain health. CogniFit has proven to be one of the most consistent and cutting-edge cognitive stimulation tools on the market, particularly if we want to strengthen main cognitive skills such as attention, perception, memory, executive functions or coordination. This program is the perfect addition for your brain if you already lead a healthy life, such as practice moderate physical exercise, eat a healthy diet, sleep soundly and socialize frequently."
This General Cognitive Brain Training Program is one of CogniFit star products since it helps slow and/or restore cognitive skills weakened by normal aging of the brain. By constant and appropriate cognitive training, the brain can favorably modify its performance and structure, optimizing the execution of our cognitive abilities. This program is available and accessible to all audiences, including people unfamiliar with cognitive intervention programs.
For further inquiries and media interviews, please contact Thomas Mann at media@cognifit.com.
About CogniFit
CogniFit is a global leader in developing online programs to assess and train core cognitive areas such as attention, memory, coordination, perception and reasoning. As a digital health company, CogniFit specializes in scientifically validated cognitive tests and brain training programs, all available online at www.cognifit.com.
CogniFit's patented technology has been designed by an international team of scientists, neurologists and psychologists who investigate and combine the latest discoveries on the brain with advanced adaptive algorithms and big data analytics. For 20 years, CogniFit has been developing personalized brain fitness programs with leading scientific institutions and published its results in several peer-reviewed publications.
As a major vendor in the cognitive assessment and training market, CogniFit offers its programs to individuals and companies in various verticals, such as healthcare, education, research, health and wellness, driving and human resources. Its brain fitness solutions are available in 19 languages.
Source: CogniFit
Share: