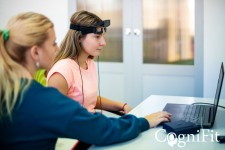 CogniFit's tests and EEG can help determine the stimulated brain areas of each cognitive skill. CogniFit's cognitive test was used to research models for adaptive learning through EEG. CogniFit continues to be a world leader in brain training and new technologies.
SAN FRANCISCO, May 2, 2019 (Newswire.com) - ​Cognitive skills are important to daily life, work and school. People need them to perform basic tasks, as well as complex tasks, that require more brain energy. The importance of these brain functions has led to the concept of adaptive learning. This concept is an educational method that leverages computerized algorithms to deliver customized resources and learning activities in order to address each learner's unique needs. The basic premise is to let the tool or system adjust to the students' learning method or cognitive skills. This will help the student or user get better results and learn in a more effective way.
CogniFit, a world leader in neuropsychological testing, brain training and cognitive stimulation, has given great importance to this change in technology and made all its training personalized, so they adapt to the needs of each user. Mohamed, El Halaby, Said, et. al. (2018), researchers from different universities in Cairo, Egypt, aimed at detecting two cognitive skills, focused attention and working memory, using EEG signals. To evaluate these cognitive skills they used CogniFit's cognitive assessment battery. They centered their study on focused attention, which is the brain's ability to concentrate its attention on a target stimulus for any period of time. They also studied working memory, which can be defined as the set of processes that allows us to store and manipulate temporary information and carry-out complex cognitive tasks, like language comprehension, reading, learning or reasoning.
The purpose of the study was to use the electric signals measured from different locations on the scalp while performing CogniFit's assessment battery to help elicit and stimulate the signals related to the two aforementioned cognitive skills. Then, they analyzed the EEG signals to measure the relationship between the extracted EEG features and the cognitive skills.
CogniFit's CEO, Tommy Sagroun, states, "This is a great discovery for CogniFit and for the future of education because more and more people will have the opportunity to train their cognitive skills in a personalized manner. This provides the user with the exact tools to train weakened cognitive skills and continue to strengthen others. It also allows professionals to use our tool to adapt interventions and help the well-being of their patients."
CogniFit's assessment proved a perfect tool to detect three levels (low, average and high) of focused attention and working memory with accuracy using a wireless 14-channel EEG headset. The education system can use these adaptive learning techniques to help treat certain learning difficulties such as dyslexia, dyscalculia, language disorders, etc. This means that CogniFit can be used as a step towards adaptive learning, where real-time adaptation can be done by predicting levels of measured cognitive skills from CogniFit's assessments. These results indicate that CogniFit is a major player in the future of education as well as for professionals looking to enhance their patients' cognitive skills. Once again, CogniFit's assessments are taking a role in technology and education worldwide.
For further inquiries and media interviews, please contact Thomas Mann at media@cognifit.com.
About CogniFit
CogniFit is a global leader in developing online programs to assess and train core cognitive areas, such as attention, memory, coordination, perception and reasoning. As a digital health company, CogniFit specializes in scientifically validated cognitive tests and brain training programs, all available online at www.cognifit.com.
CogniFit's patented technology has been designed by an international team of scientists, neurologists and psychologists who investigate and combine the latest discoveries on the brain with advanced adaptive algorithms and big data analytics. For 20 years, CogniFit has been developing personalized brain fitness programs with leading scientific institutions and published its results in several peer-reviewed publications.
As a major vendor in the cognitive assessment and training market, CogniFit offers its programs to individuals and companies in various verticals, such as health care, education, research, health and wellness, driving and human resources. Its brain fitness solutions are available in 19 languages.
Source: CogniFit
Share: