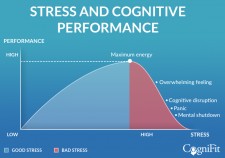 Stress levels related to prolonged confinement may increase the risk of cognitive impairment in seniors. A prolonged state of stress can cause alterations in mental health.
SAN FRANCISCO, April 23, 2020 (Newswire.com) - ​​​As coronavirus spreads, people live in a period of almost constant mental alarm. After analyzing the current situation and contrasting different studies, CogniFit's science team believes that this situation could increase the risk of cognitive impairment, especially in seniors, since COVID-19 represents a greater threat to their health. The CogniFit neuroscientific team warns that mental health clinics must be prepared for the post-quarantine period.
CogniFit neuropsychologist, David Asensio, points out, "When we live through a high-stress period, certain structural alterations in the brain and a deficit in short-term memory can arise." Since the beginning of the shelter-in-place orders, CogniFit has detected a negative variation in the performance of certain cognitive abilities among its users.
Comparing the average scores of users over 50, before and after COVID19 global spread, shows that scores of certain cognitive skills, such as hand-eye coordination, focused attention, short-term memory and working memory, have dropped between 8% and 12% in a representative sample of 126,000 CogniFit users. This suggests that this state of alarm may indeed have an impact on our brain. However, more time and research are needed to know if these changes are sustained over a long period of time.
The uncertainty of this situation and the sudden change in our lives has not only disrupted routines but has also affected part of the population, causing insomnia, irritability and increased cortisol levels due to stress. This situation could lead to a greater sensitivity to cognitive problems among people with a higher risk of deterioration.
The positive side of this situation is, as Msc. Asensio points out, "stress is a changeable risk factor for cognitive decline. Therefore, it is important that people carry out appropriate interventions and cognitive stimulation tasks. The goal is to try to mitigate the possible impact of stress on our brain. To do this, the CogniFit science department places special emphasis on the fact that now, we must carry out activities focused on working on our neuroplasticity. In addition, the science team is hopeful and believes that the first step is to become aware of the effects that prolonged stress has on our mind. Ideally, on the advice of a professional, we should follow the appropriate treatment and a specific cognitive stimulation plan adapted to our specific needs."
To help during the pandemic, CogniFit's brain training programs are free for families through its CogniFit Stay At Home program.
About CogniFit
CogniFit is a global leader in digital brain fitness solutions. As a digital health company, CogniFit specializes in scientifically validated cognitive tests and brain training programs, all available online at www.cognifit.com.
For over 20 years, CogniFit has been developing patented brain fitness programs with leading scientific institutions and published its results in several peer-reviewed publications.
Source: CogniFit
Share: