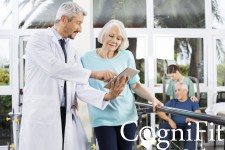 Leading researchers use CogniFit brain training tools to help prevent health risks and identify seniors associated with danger of falls
NEW YORK, August 31, 2017 (Newswire.com) - ​​​​Gait, or the way one walks, is a critical aspect of our lives as it defines our capacity to walk and keep our balance. Gait impairments and dementia often coexist in older adults and patients with neurodegenerative diseases. Both conditions represent independent and serious risk factors for falls and life-threatening injuries. The relationship between cognitive function and gait has recently received increased attention from the neuroscientific community as research has demonstrated the relationship between cognitive state and our mobility. Today, researchers hope to continue to boost executive function by using the CogniFit brain training program.
Gait shows all levels of nervous system functions. Observing gait can be especially useful when it comes to diagnosing and tracking psychiatric and neurologic disorders. If gait slows down or walking becomes erratic, it can indicate signs of serious cognitive impairments that could become more significant in the future. For example, these symptoms have been associated with later appearances of dementia and Alzheimer's disease.
We are treating walking abilities as an extension of brain function.

Joe Verghese, Director of the Montefiore Einstein Center for the Aging Brain
Roee Holtzer, a professor of neurology at Albert Einstein and Yeshiva University, and Joe Verghese, director of the Montefiore Einstein Center for the Aging Brain, are collaborating to shed light on the relationship between gait and cognition and how to improve them.
"We are treating walking abilities as an extension of brain function," Dr. Verghese says.
The researchers started a federally funded study testing the effect of the CogniFit cognitive training program on gait. Their goal is to help clinicians identify seniors at risk for dementia and other health risks, such as falls, and to find interventions to improve gait. Up to 420 participants will use CogniFit brain training games for 45 minutes, three times a week, for a period of two months. The scientists will measure each of the participants' gait before they start the eight weeks of cognitive training. They will do so again post-intervention, as well as six and 12 months later, to see if any effects are durable.
Half of the participants will be playing CogniFit brain games focused on training executive functions, while the other half will play "placebo" games. These placebo games are other CogniFit brain fitness tasks designed to stimulate other cognitive processes aside from the executive function trained by the intervention group.
"One of the issues has been if you train someone to do a memory test, they appear to improve on memory, but not anything else, which is known as a near transfer," Dr. Verghese says. Consequently, the researchers, are hoping for a far transfer effect, where playing these brain exercises will not only improve their cognitive processes but it will improve their gait as well.
CogniFit brain fitness solutions are recognized and used for much research by the scientific community, including the University of Washington, the Naval Medical Research Unit of the US Navy, the Misericordia University, the Tel Aviv University, and more. Among its products, CogniFit offers a professional platform specifically designed to help scientists study the brain and perform scientific research online and in real-time: CogniFit for Researchers. This platform can help neuroscientific researchers better assess, train, and track people's cognitive performance. The CogniFit brain training program uses advanced algorithms to automatically adjust difficulty and tailor exercises to the study participant's cognitive level and researchers' needs. CogniFit online brain fitness solutions can be used by children, adults and seniors.
See more about CogniFit for Researchers platform on our dedicated CogniFit page. Researchers can start using the system by themselves online and decide what option best fits their needs.
You can also find more information watching an introductory video on our CogniFit YouTube page.
For further inquiries and media interviews, please contact Molly Minchew at m.minchew@cognifit.com.
About CogniFit
CogniFit is a global leader in developing online programs to assess and train core cognitive areas such as attention, memory, coordination, perception, and reasoning. As a digital health company, CogniFit specializes in scientifically validated cognitive tests and brain training programs, all available online at www.cognifit.com.
CogniFit's patented technology has been designed by an international team of scientists, neurologists, and psychologists who investigate and combine the latest discoveries on the brain with advanced adaptive algorithms and big data analytics. For over 15 years, CogniFit has been developing personalized brain fitness programs with leading scientific institutions and published its results in several peer-reviewed publications.
Today a major vendor in the cognitive assessment and training market, CogniFit offers its programs to individuals and companies in various verticals, such as healthcare, education, research, health and wellness, driving and human resources.
Source: CogniFit
Share: