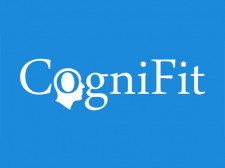 New York, NY, December 21, 2016 (Newswire.com) - CogniFit, a global leader in cognitive assessments and brain training applications, is launching a new dedicated platform for physicians, therapists and health professionals to engage patients in brain health care and automate their monitoring and the tracking of results.
According to a recent study on brain and mental health by the AARP, 75% of adults age 40+ are concerned about their brain health declining in the future. "The new CogniFit for Health Professionals platform can help health professionals address those brain health concerns and automate that monitoring and coaching relationship," said Beatriz Tome, Marketing Director at CogniFit. "By providing healthcare providers with a simple, reliable and exhaustive neuroscientific tool to help assess, train and monitor patients' cognitive health, CogniFit aims to promote doctor-patient dialogues about mental acuity, brain health and cognition in general."
The CogniFit for Health Professionals platform is designed to help health professionals measure, exercise, and track their patients' cognitive performance through scientifically validated online exercises and other brain training tasks. The cognitive performance of these patients is tracked by measuring a large number of cognitive functions and other cognitive skills we use in order to understand and interact with the world. Skills such as focused attention, short-term memory, inhibition, shifting, and visual scanning are measured by the platform. Health professionals can then easily monitor the evolution of these cognitive abilities and engage their patients on different set of programs and exercises.
Patients have their own private access and may decide to share their cognitive results with their health professional if they want to do so. In that case, the healthcare provider will automatically receive its patient's results after each session and monitor overall results and progress. The platform offers a large number of insights, data, statistics and offer useful comparisons to better explain and describe the results. Depending on their cognitive state and their motivation, patients can decide to complete additional brain exercises to continue training some of their cognitive abilities.
Learn more about the new CogniFit for Health Professionals platform on our dedicated CogniFit page.
You can also find more information watching an introductory video of the CogniFit for Health Professionals platform on our YouTube page.
For further inquiries and media interviews, please contact Molly Minchew at m.minchew@cognifit.com
About CogniFit
CogniFit is a global leader in developing online programs to assess and train core cognitive areas such as attention, memory, coordination, perception, and reasoning. As a digital health company, CogniFit specializes in scientifically validated cognitive tests and brain training programs, all available online at www.cognifit.com.
CogniFit's patented technology has been designed by an international team of scientists, neurologists, and psychologists who investigate and combine the latest discoveries on the brain with advanced adaptive algorithms and big data analytics. For over 15 years, CogniFit has been developing personalized brain fitness programs with leading scientific institutions and published its results in several peer-reviewed publications.
Today a major vendor in the cognitive assessment and training market, CogniFit offers its programs to individuals and companies in various verticals, such as healthcare, education, research, health and wellness, driving, and human resources.​
Source: CogniFit
Share: